Sar Major Aussie Adventurer Camper Trailer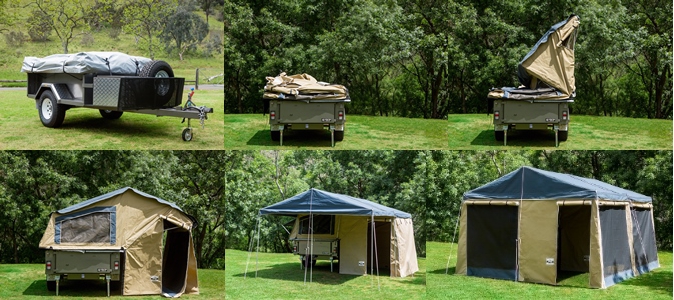 NOW AVAILABLE FOR HIRE!
>>>CLICK HERE FOR DETAILS<<<
SUPER EASY 5 minute, one person set-up and pack-up of base unit
Camper Trailer packages starting from only $5799 (includes registration)
Your choice of: On-Road or Off-Road Trailers, Canvas Colours, Extras and Options
Expand your Aussie Adventurer with more Awnings, Walls, Floors & Features now or later
Designed & manufactured in South Australia using Australian canvas and steel
Complies with Australian Design Rules and Standards
2 year Tent & 5 year Trailer Workmanship Warranty PLUS 5 year Canvas Warranty
Choose Your Camper Trailer Package
Combine your Aussie Adventurer with any of our Camper Trailers to create your ideal Camper Trailer Package.
Adventurer Ranger (No Brakes) On Road
Adventurer Tourer (Brakes) Off Road
Adventurer Trekker (Brakes) Off Road with Landcruiser Wheels
Visit our Factory Direct Showroom or contact our friendly sales staff between 8am and 4:30pm weekdays and 9am to 1pm Saturdays for prices and options with our current Camper Trailer Packages.
To access an online copy of our current brochure and package prices please click the button below.