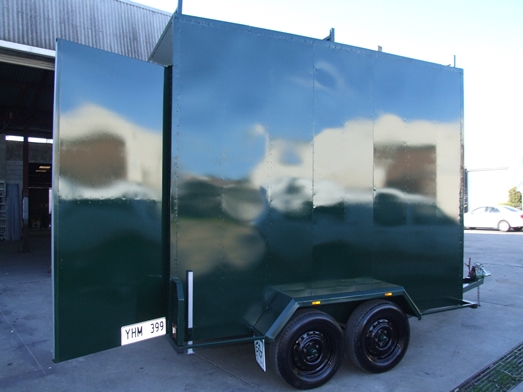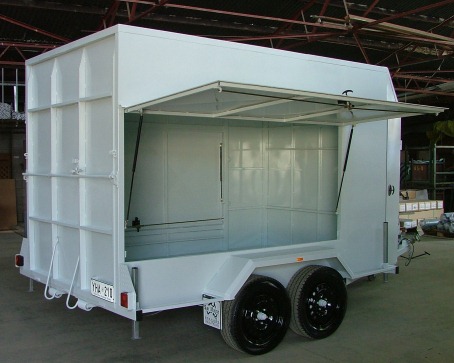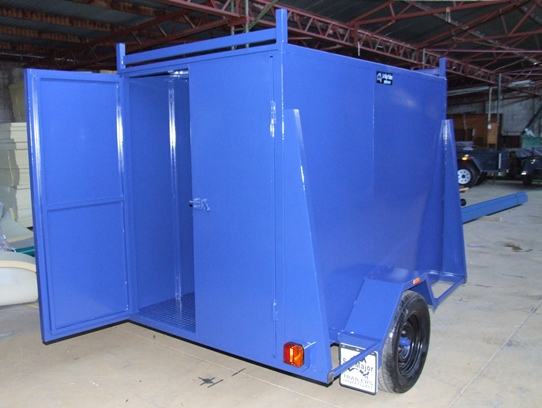 Security and weather protection are both covered with a Sar Major Enclosed Trailer.
We manufacture a range of sizes and heights with either single or barn doors. Roof / ladder racks are standard on most models.
The load rating can be customised to suit your needs.
Sar Major Enclosed Trailers



Standard Heavy Duty Chassis Features*
Chasis Rails:
50 x 50 x 2.5 Galvanised RHS Outer
Chasis X Members:
50 x 50 x 2 Galvanised RHS
Draw Bar:
75 x 50 x 3 Galvanised RHS
Spare Wheel:
Mounted on Draw Bar
Floor:
2mm Zinc Anneal or 2.1mm Chequerplate
Trailer Wall Height:
300mm
Mudguards:
Reinforced and Folded Zinc Anneal
Coupling:
50mm Standard Ball
Springs
Single Axle Units: 5 Leaf Slipper
Tandem Units: 5 Leaf Tandem Slipper
Axle:
Single Unit: 39mm Round
Tandem Units: 39mm Round (1 x Braked)
Paint:
Etch Primed Undercoat
Hammertone Industrial Enamel
Tyres and Rims:
Used
Canopy Features:
– Various Sizes and Heights
– Single or Double Doors
– Roof / Ladder Rack
– Can Be Customised to Your Specifications
– Load Rating to Suit Your Needs
Additional Features:
– Skid Rails / Steps – Strengthens Mudguards
– Plug Holder on Draw Bar and Galvanised Safety Chain
– Surrounds to Protect Rear Light
– Wiring Runs Through Chasis for Protection
Code No.
Sizes
Available*
Approx
Weight*
6' x 4'
7' x 4'
7' x 5'
8' x 5'
8' x 5' Tandem
So that we can give you the best product at the best price, Sar Major Trailers have a wide range of pricing and package options to suit your needs.


*All measurements, weights and components are approximate only and may vary. Features and availability are subject to alteration without notice.