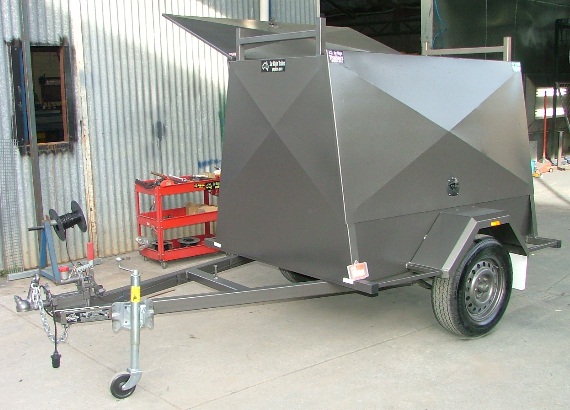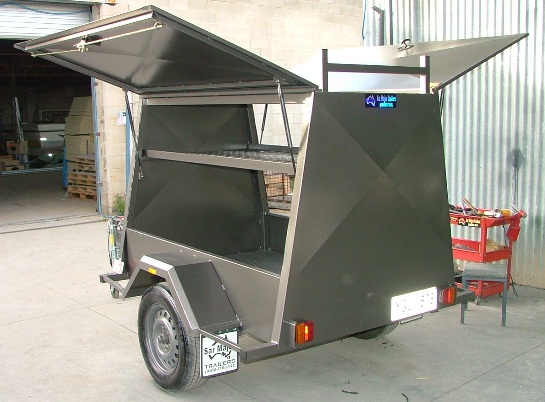 Starting with our Heavy Duty Trailer chassis, the Tradesman Trailer supplies lots of lockable storage space.
A sturdy roof/ladder rack on top adds more versatility. We also manufacture the same canopy bolted to one of our Heavy Duty Trailers where the unit needs to be removable.
Tradesman Trailer Units can be customised to suit individual needs. You can add a rear door or ramp, internal shelves or partitions.
Trailer Load Rating 749kg
Sar Major Tradesman Trailers and Canopies
Standard Heavy Duty Chassis Features*
Chassis Rails: 50 x 50 x 2.5 Galvanised RHS Outer
Chassis X Members: 50 x 50 x 2 Galvanised RHS
Draw Bar: 75 x 50 x 3 Galvanised RHS
Spare Wheel: Mounted on Draw Bar
Body:1.6mm Flat Zinc Anneal
Floor: 2mm Zinc Anneal or 2.1mm Chequerplate
Mudguards :Reinforced and Folded Zinc Anneal
Coupling: 50mm Standard Ball
Springs: Single Axle Units: 5 Leaf Slipper and Tandem Units: 5 Leaf Tandem Slipper
Axle: Single Unit: 39mm Round and Tandem Units: 39mm Round (1 x Braked)
Paint: Etch Primed Undercoat with Hammertone Industrial Enamel
Tyres and Rims: New
Canopy Features: 900mm High (Total Height of Trailer with Canopy is 1200mm), Swingup Door Each Side, 2 Gas Struts per Door, Flush Mounted T Handles, 3 Way Locking Bars, Roof / Ladder Rack, Optional Rear Door and Shelves
Additional Features: Skid Rails / Steps – Strengthens Mudguards, Plug Holder on Draw Bar and Galvanised Safety Chain, Surrounds to Protect Rear Light, Wiring Runs Through Chasis for Protection
So that we can give you the best product at the best price, Sar Major Trailers have a wide range of pricing and package options to suit your needs.

*All measurements, weights and components are approximate only and may vary. Features and availability are subject to alteration without notice.